Paid Advertising on TikTok – 5 practical guidelines!
No one needs telling that TikTok has conquered the world during the times of COVID-19. The reach of the app continues to grow and it currently has nearly 3 million Polish users. TikTok is a tremendous opportunity for marketers but, as with every new solution, it is also a challenge. As a TikTok partner, we were one of the first agencies in the Polish market to test paid advertising on the platform. Here are 5 practical guidelines for you to remember while planning your advertising activities:
1. Your brand does not need a TikTok profile to launch paid activities on the platform.
This is good news, especially for industries that are reluctant to create any more profiles or are sceptical about the platform itself. True, managing a profile requires considerable workload, regularity and a great dose of creativity. TikTok responds to these issues – in addition to its powerful image-building activations (such as dedicated AR filters), it offers a number of advertising formats for use without a brand profile. They include in-feed ads, appearing in the stream between videos and is displayed on the "For You" page. It has call-to-action buttons (plenty of CTA options to choose from) which, when clicked, send users to the website of your choice. To launch such an ad, you need an ad account, a creative concept and a media budget. Your campaign can be targeted, for example depending on:
gender;
age (age brackets);
interests (e.g. games, travel, technology, finance, food and beverages, beauty, parenting);
location (country, province);
devices.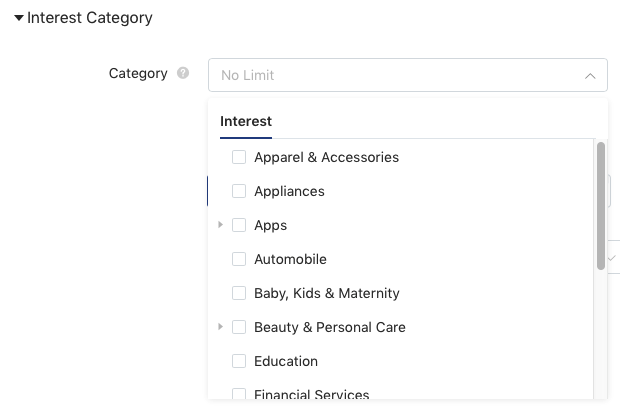 Just as on Facebook, you can choose between the "lifetime" or "daily" budget option. Optimisation is crucial here, and it must be overseen by an experienced specialist. This is because, unlike Facebook for example, the platform offers no guidelines and lacks an auto-optimisation option. There are also a number of significant options available only for TikTok's partners and after consultation with a dedicated account manager.
2. Match the type of paid advertising to your desired results.
The paid campaigns offer quite a wide range of possibilities for a platform that is just a beginner in this area. They are visibly inspired by Facebook's advertising system. TikTok advertising can be bought both via bidding or reservation. Use the former to launch campaigns aimed at website traffic or an app installation or conversion. We optimise all the options on a CPC (cost per click) basis. This is very good news for e-commerce businesses. For campaigns oriented towards building brand recognition, use the reservation model and choose advertising optimised for CPM (cost per mille). The platform has its own version of a pixel to be used to measure website traffic.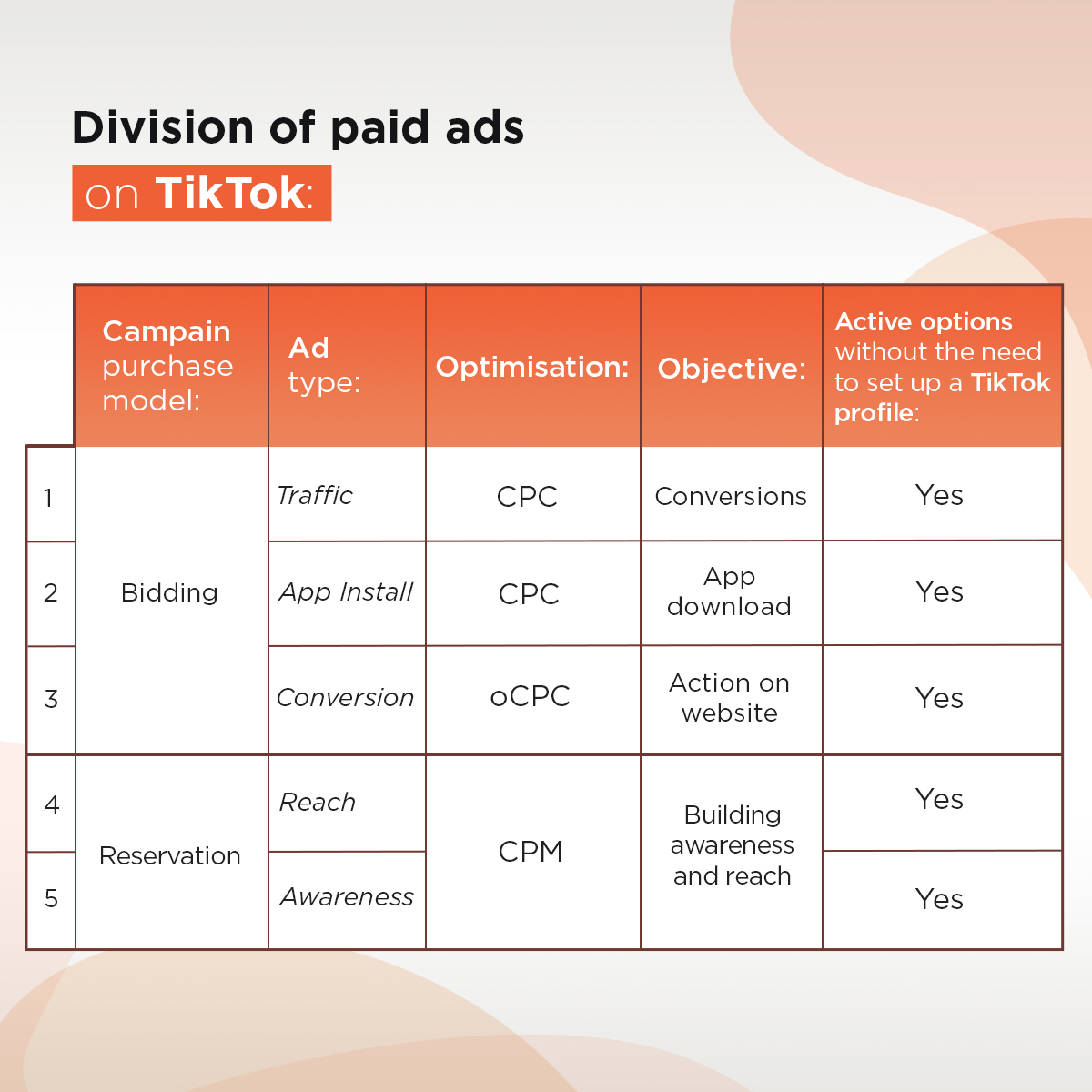 3. An eye-catching advertising concept is the key to success.
The success of paid advertising depends largely on the creative concept. TikTok opts for short, dynamic forms resembling the style used by TikTokers based on the wizard in the app. Standard ads with pop-up logos and packshots will be less successful than brief 10-second native product videos, for example. If we do not have a ready vertical video, animation may be a good substitute. Do not try to squeeze in logotypes or lengthy lists of product benefits. While creating the content, the advertiser should adapt the content to the platform, not the other way round. Your brand must speak the language of young people. For TikTok, just as for Facebook, the success (i.e. high viewing rate) is determined by the first seconds of the video. Verification is quick and brutal – you either attract the attention or are swiped into oblivion. The optimal length of a vertical video is 10-15 seconds. The soundtrack is also incredibly important. TikTok has its own music library, but you need to make sure you have a right to use the respective track. For copyright reasons, the safest solution is to prepare your own music before launching the ad. Curiously enough, you cannot use the word TikTok or any of its forms in the advertising content.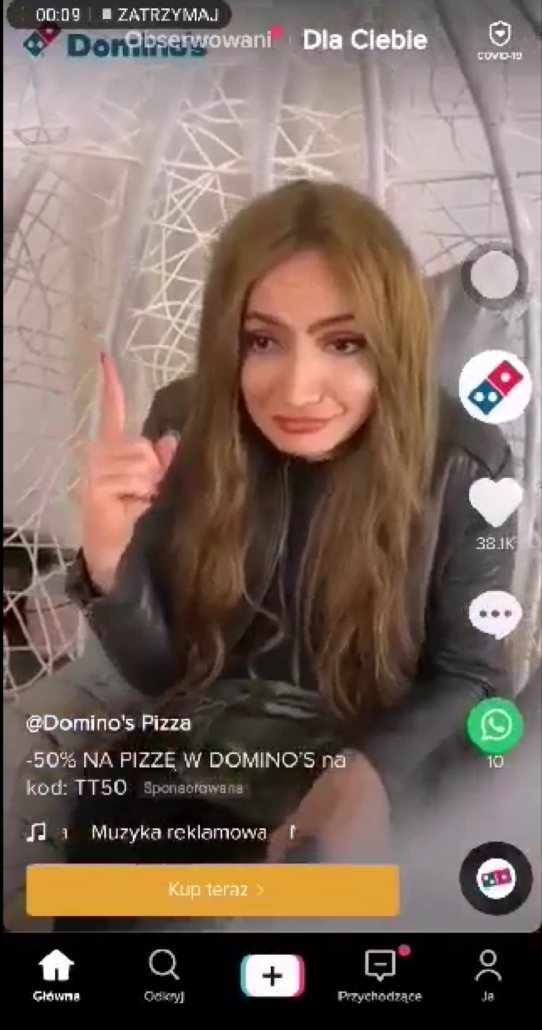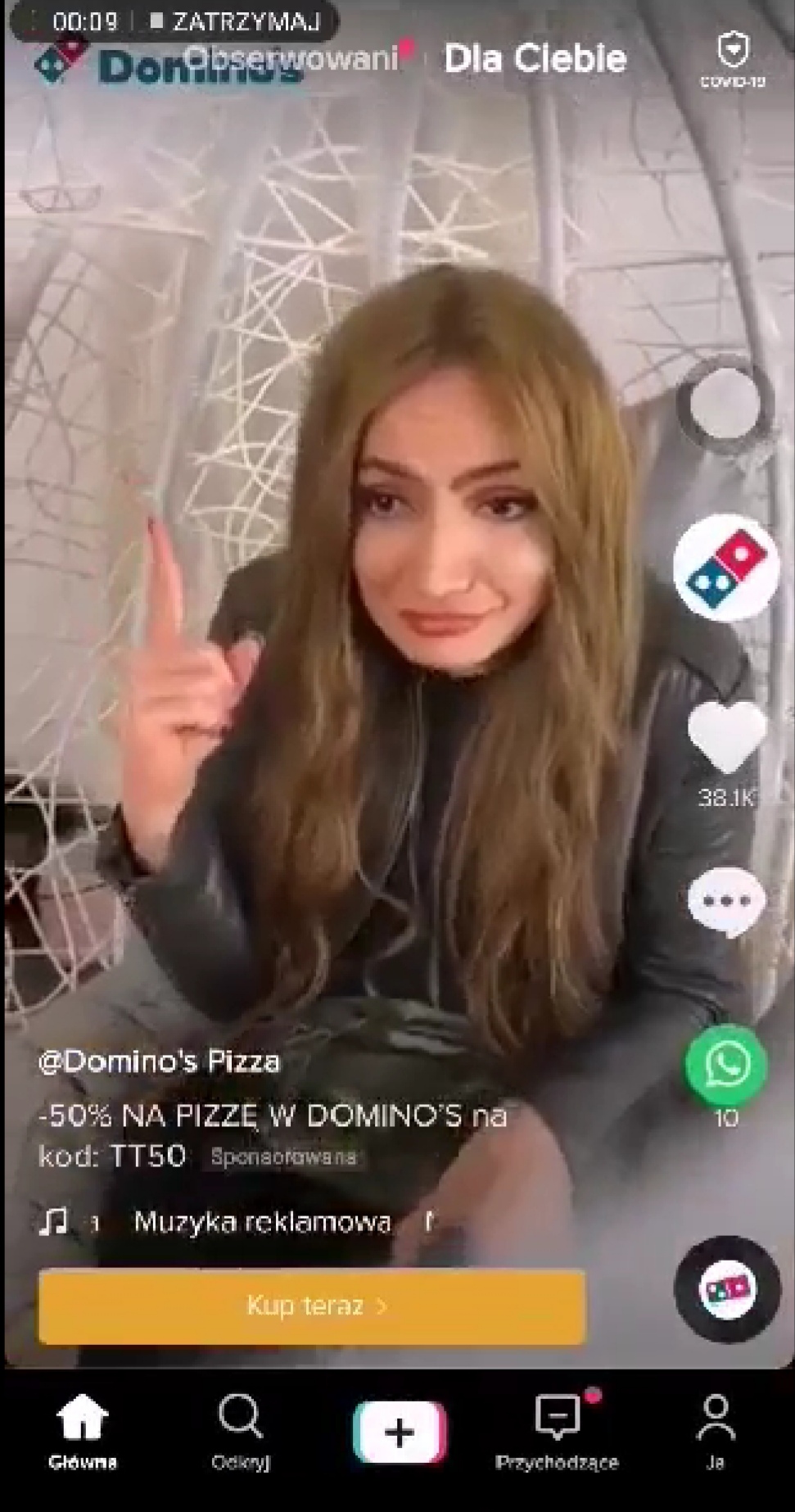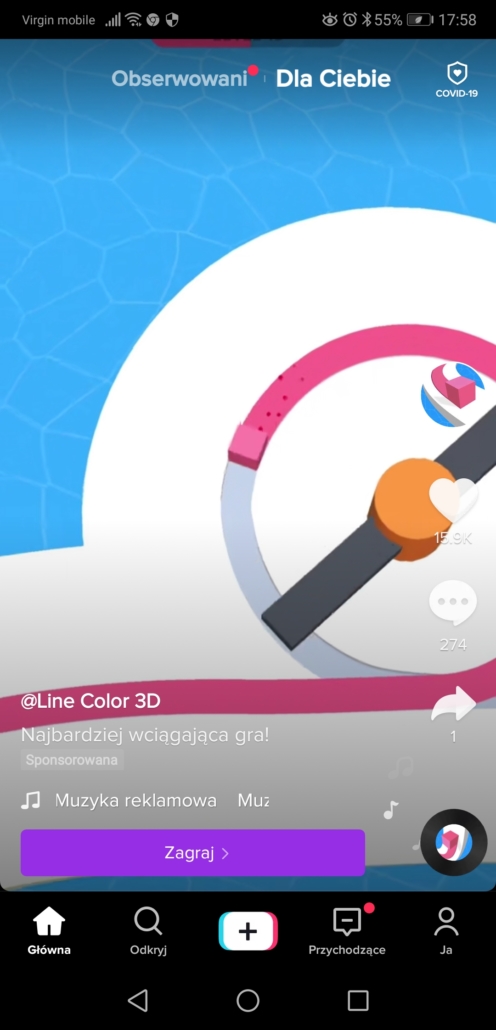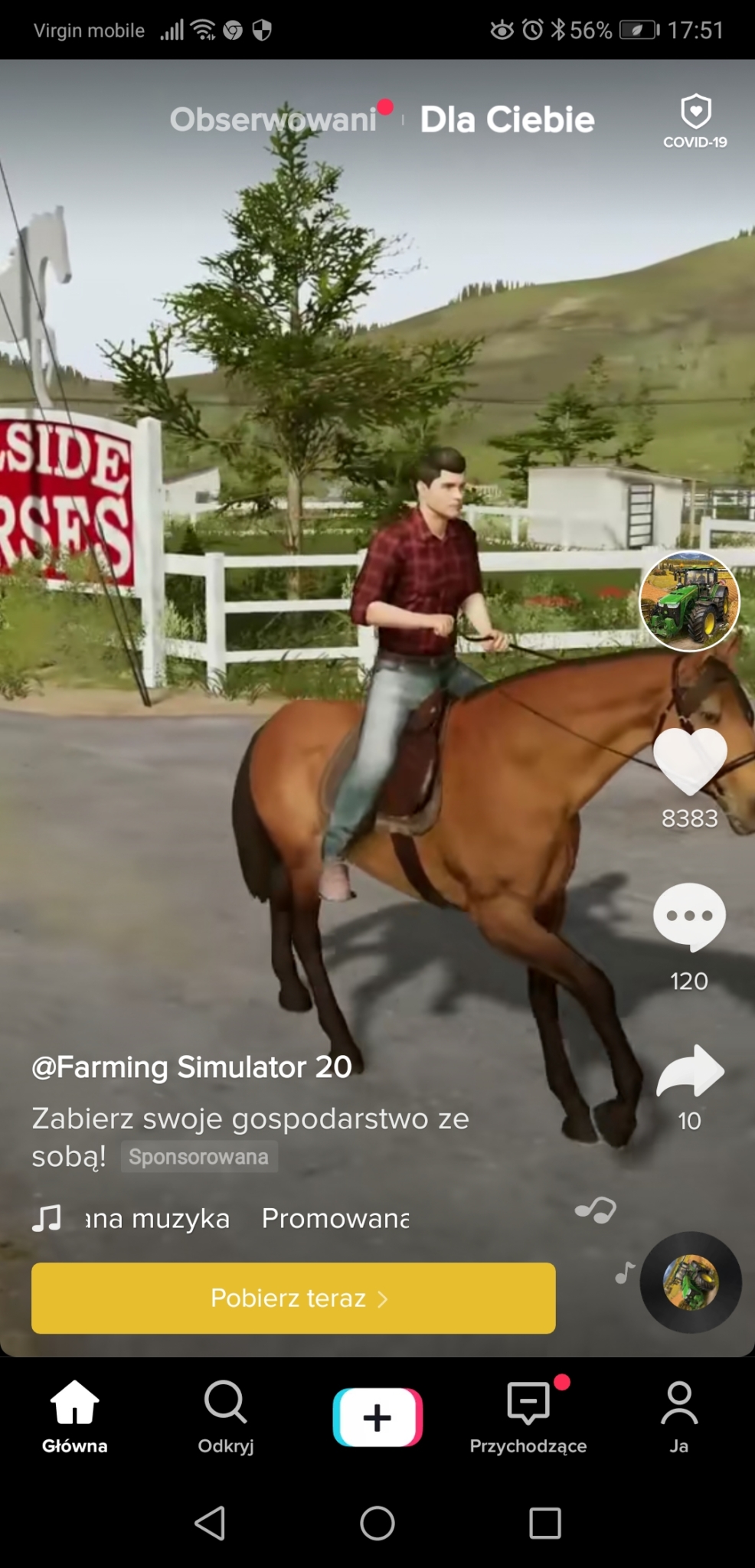 4. TikTokers in paid advertising.
Combining paid advertising with a famous face is one of the best recipes for success on TikTok. We have tested this with our clients! Consider this option if your advertising budget so permits. TikTokers know how to entertain their fans, which is what the platform is ultimately about. If you plan to partner with TikTok creators, approach the issue comprehensively, for example by engaging an influencer to create the content to be used for your paid advertising. Depending on your needs, paid activities increase the reach, promote the AR filter or redirect traffic to an external website.
5. Be careful with content connected with COVID-19 in your advertising concepts.
This is an interesting piece of trivia but also important to know as it may save you some time in preparing the advertising concept. Why would your brand need content connected with COVID-19? There are industries, such as the catering business, where deliveries to customers are an inseparable part of the business. But mere presentation of contactless delivery in the times of COVID-19 on TikTok may be problematic. The message that you are conveying is irrelevant. Even positive examples, such as wearing gloves or masks, may result in ad rejection in the advertising panel. If you are planning paid advertising, remember that no COVID-19-related words of hashtags, such as quarantine or virus, are allowed – not only in the advertising concept but in particular in its description. Our experience shows that toilet paper visible in the video may be questioned too. ;) Even though the app users, known as TikTokers, post content connected with COVID-19, advertisers cannot do the same. Why is that?
Just like other platforms (e.g. YouTube), TikTok chose the tactic to prevent the spread of misinformation about the pandemic or unnecessary panic. The official information notice says:
"To be clear, our guidelines prohibit misinformation intended to deceive or mislead the public. While we encourage our users to have respectful conversations about the subjects that matter to them, we remove misinformation that could cause harm to an individual's health or wider public safety. In light of the pandemic, we are erring on the side of caution when reviewing reports related to misinformation that could cause harm to our community or to the larger public. This may lead to the removal of some borderline content."

www.tiktok.com, Supporting Our Community Through COVID-19, https://www.tiktok.com/safety/resources/covid-19
To sum up, as TikTok will play an important role in the SM ecosystem, you may want to explore its advertising possibilities today. There is no doubt that paid advertising makes it possible to reach a wide audience, which is just one of the reasons to test its potential before undertaking a wider spectrum of activities.
https://performancemedia.pl/wp-content/uploads/2020/05/tiktok.jpg
628
1200
Ewa Świerczewska
https://performancemedia.pl/wp-content/uploads/2020/06/logo-performancemedia-dark-1.svg
Ewa Świerczewska
2020-05-07 16:20:29
2020-05-07 16:45:27
Paid Advertising on TikTok – 5 practical guidelines!